Power Features - Audit Trail, Group Permissions, and more Template Customization

Available today, many new features are available that let you get even more control over the platform!
---
Audit Trail
A much-requested feature - the audit trail allows Admins an inside look at what data was changed, by who, and when. This is a very powerful tool to help Admins keep their Organization moving in the right direction.

The Audit Trail is complete with filters, descriptions, and a visual description of what has changed for each audit record.
---
Group Permissions
Do you have members who need access to a Group of your Organization? And even as Entities are moved in and out of that Group you want them to maintain access? Today, we have the capability.
Rather than assigning a member to all Entities within a Group and thus getting access to the Group, you can now assign a member directly to a group.

Assigning a user to a group results in exactly the same permission as assigning them to all Entities within a Group. But assigning to a Group results in a lighter configuration that auto-updates as the Group's descendant Entities change, ensuring the member always has access to the Group.
---
Edit a used Template
You can now change (add, remove, and reorder) the Practices in a custom Template, even if the Template has been used in an Assessment. Just go to the Template Builder and click Edit!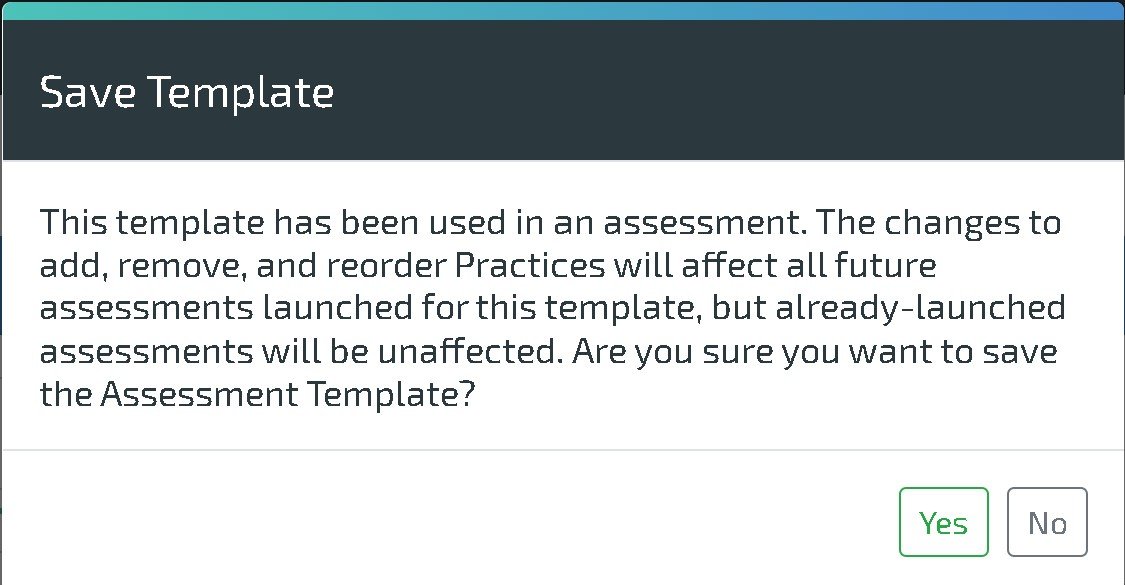 It works like this - all assessments already launched for the Template will keep the Practices as they are forever. But assessments launched in the future will use the new set of Practices.
In case you want to update the past assessments also, a one-for-one Practice replacement can be done, only through the Copy/Customize Practice workflow.
In this workflow, the user clicks Copy/Customize on a Practice that is in the Template. Then before saving the copied Practice, opt in to have the Practice replace the one in the Template. This will affect all existing assessments and Results for that Template.