Super User enhanced permissions

With our latest release, available today, Super Users have the ability to manage the organization structure. In addition, we've rounded some edges on our most-used features.
Super User Re-permission
Before this release, Super Users were just like Facilitators with the ability to edit Templates. Now, Super Users are more like Admins, without the ability to edit Templates. We'll explain.
Super User was not a popular permission - it only allowed Admins to delegate Template and Question editing to other users. But most organizations want to control and standardize their templates, so the permission received little use.
On the flip side, Admins were granting Admin access to other users to allow them to manage the organization (Group and Entities) and the Members. Given this insight, we decided to re-permission the Super User to fulfill the need!
Super Users now have access to two new menu items - Organization Structure and Members.

Inside Organization Structure, Super Users can manage any Entities/Groups that they have access to (an Admin will grant a Super User permission over a Group or set of Entities). For that set of Groups and Entities, the Super User can create, edit, and delete - so long as the Super User keeps the changes within the Group/Entities they have permission to.
Inside Members, Super Users can manage any members with Facilitator, Team Member, or Analyst permission levels (no access to edit Admins or other Super Users).
This includes inviting new members, editing existing members, reinviting members, and deleting members - so long as the Groups and Entities they grant access to are within the set of Groups or Entities that the Super User has access to.

Obviously, we can't automatically grant this new permission to any existing users, so any Super User before today, has been demoted to Facilitators for now. An Admin can re-permission the users as they see fit.
The idea behind this change is simple - Admins should do Admin work, not spend time inviting members and managing organization structure for a part of the organization. Delegate these tasks to the new Super User permission.
---
Automatic forwarding into the assessment
There are two ways to join an assessment.
As a member (a registered user), log in, go to Assessments -> Participate in Existing
As a participant-only user (a non-registered user), join via the assessment link
This, however, was confusing for registered members, who often time joined via the participant-only link as an anonymous user. There is very little difference between these two options, but if you are a registered member, it is advised to log in so that you can get the following advantages:
No need to enter your email, display name, role again
You can associate your votes with your account (useful for tracking your own votes in the Results screen)
View the Results after the assessment compeltes
Below is the warning we give to registered members, advising them to login.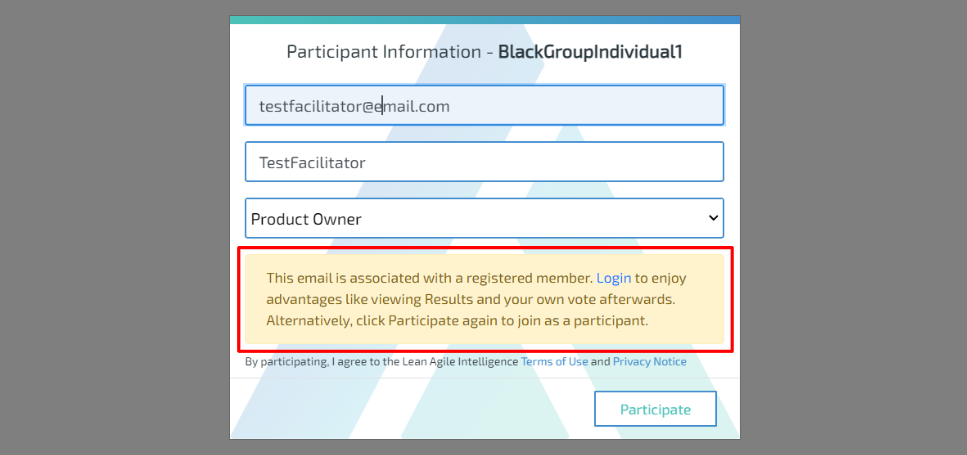 To direct people towards these advantages, we are letting members (registered users) join via the assessment link. If the registered member is logged in and follows the assessment link, they will be added to the assessment instead of shown the Participant login screen. If they aren't logged in, they will see the warning above, which should prompt them to login and join via either method - Participate in Existing or following the assessment link.
---
Other things worth mentioning
Lots of other small enhancements made its way into this release that are worth mentioning!
Page load time improved when launching or joining an assessment
Members in active assessments can now be deleted - no more unnecessary errors preventing the deletion (we trust you know what you are doing)