Our best feature just got better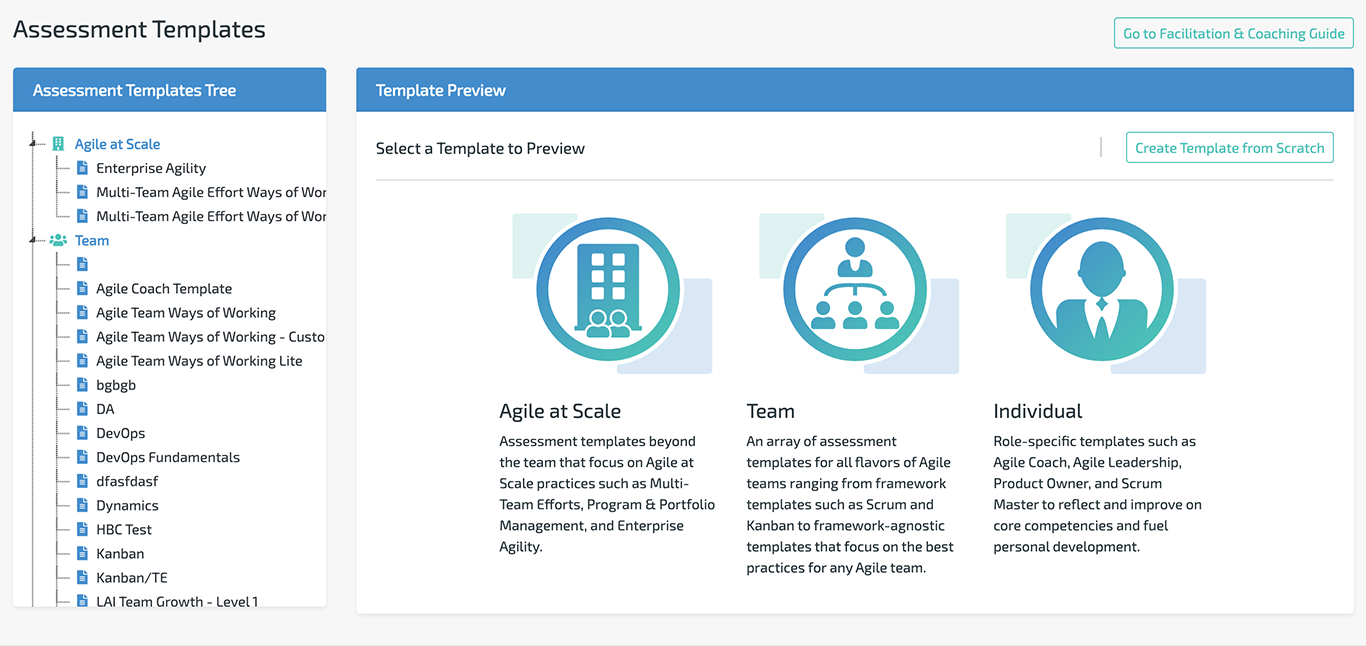 Since the beginning, our mission at Lean Agile Intelligence has been to make self-assessments a value-added exercise. At the heart of this approach is the ability to customize assessment templates to your context, transformation strategy, and desired outcomes. Because it is not one size fits all!
Available today, you can find not only a new design to our Template Builder, but also more customization functionality!
---
Assessment Templates - Enhanced Navigation & Preview Functionality
The "Launch New" screen has been renamed to "Assessment Templates." It includes a tree-like structure to improve template navigation and advanced preview functionality that provides additional information about the template, including its practices!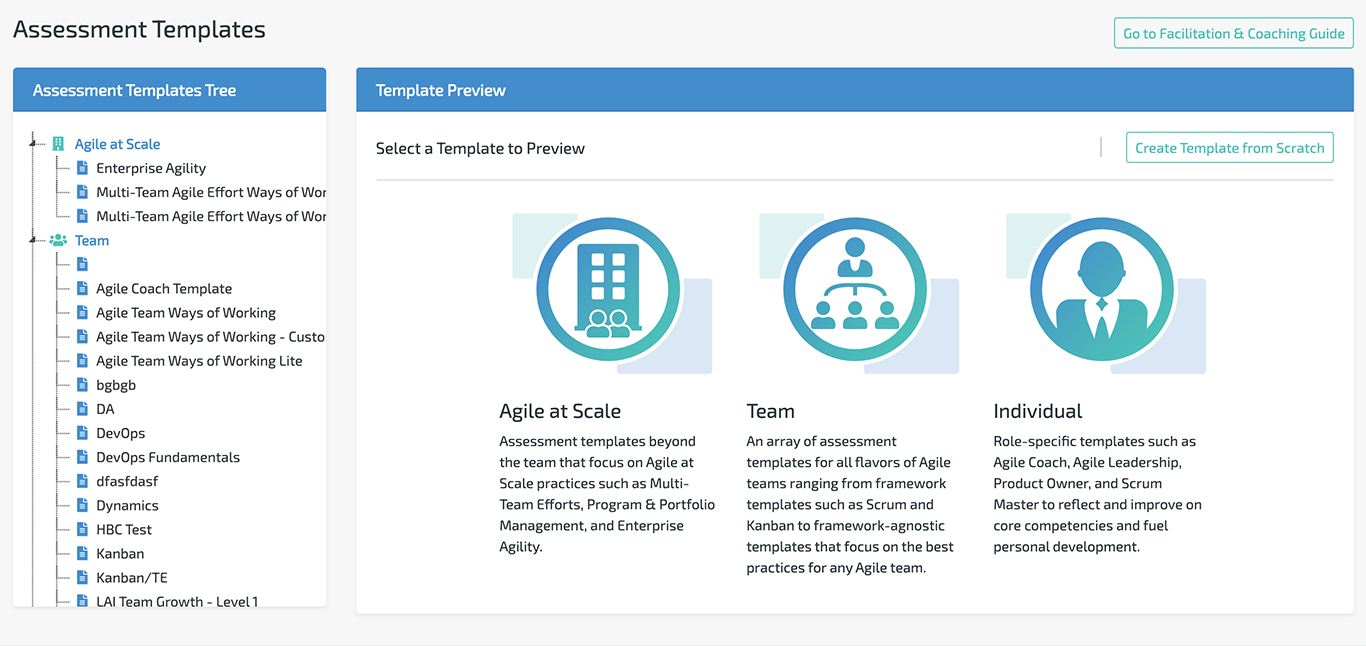 ---
Template Builder - Enhanced Navigation & Functionality
The Template Builder has been enhanced with additional customization functionality:
Ability to edit the Template Name, Description, and Ideal For fields

View details of Practices, including attributes, technique criteria, and helpful resources directly from the template

Add/Remove Practice buttons

Practice reordering

Dimension reordering
Note the "Template Builder" has been removed from the menu. It is now directly accessed from the Assessment Templates screen.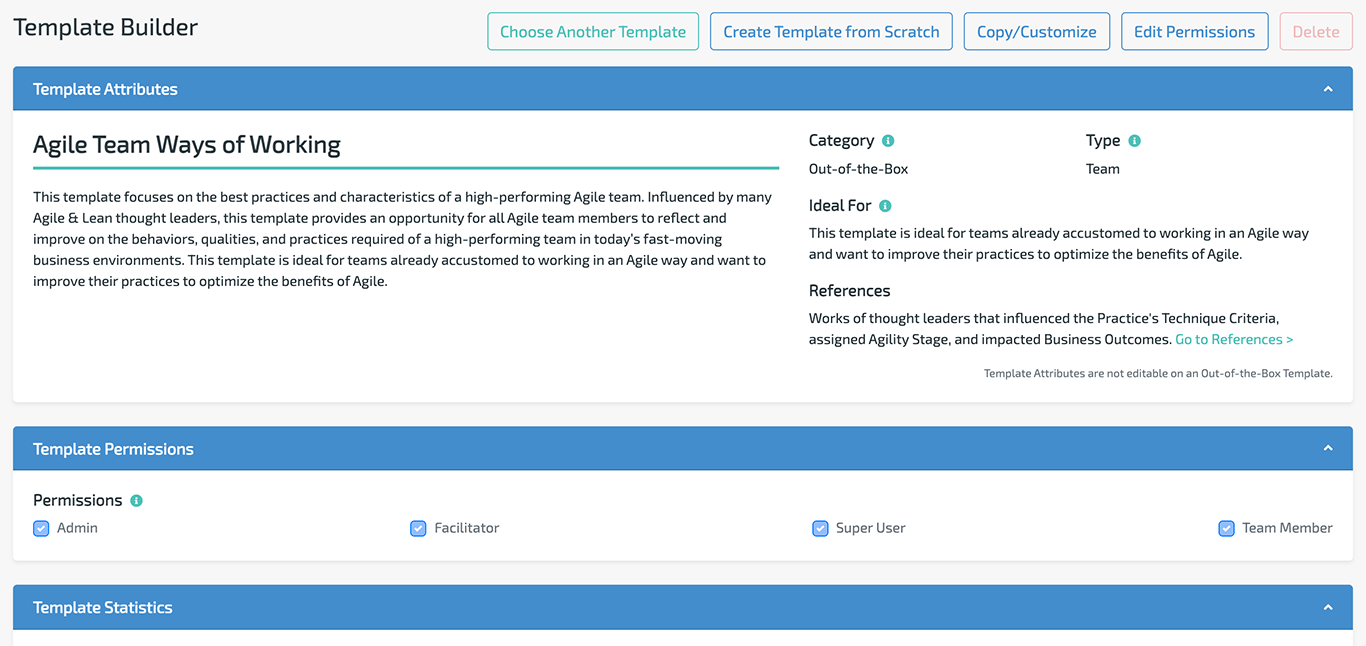 ---
New Practice Catalog
The Practice Catalog has a new dedicated screen enabling:
Freehand search and filtering on impacted business outcomes, practice level, practice dimension, and category

Easy viewing and editing of the newly added Practice Description field

Quick actions like Add to Template, Copy/Customize, Edit, and Delete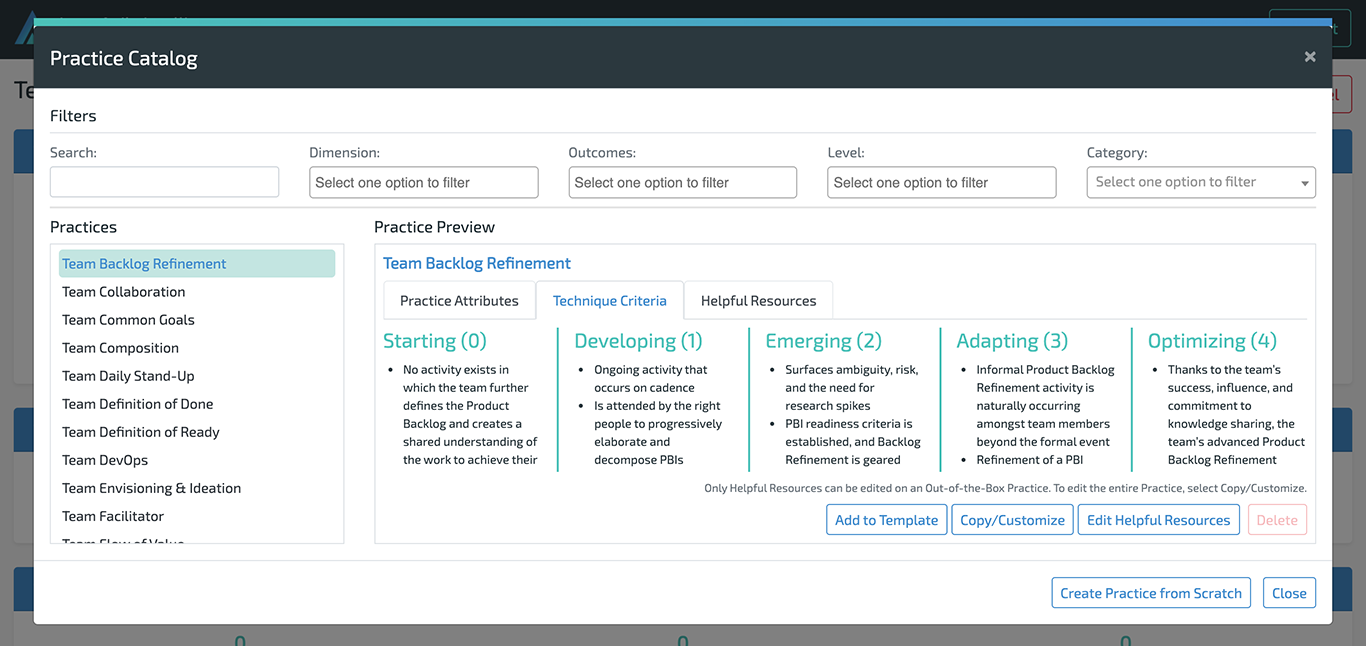 ---
Manage Practice Dimensions - Create Custom Dimensions
A new screen under 'Organization Setup' for Administrators provides the ability to create custom Practice Dimensions. New dimensions with assigned practices answered in an assessment will be available in Results!

---
New Results Filters
Two new Practice filters are available in Results:
Practice Level - selects Practices that have a Practice Level of any of the selected

Improvement Action - Selects Practices that have at least one Improvement Action in the Open state

---
New Templates - Adapting to Industry Trends
Non-Software Delivery Agile Team Ways of Working: This template is ideal for teams working in a Non-Software delivery context, including sales, marketing, finance, and other operational areas of the business. There are no references to software delivery jargon in this template.

Organization Business Agility: This template focuses on the best practices and characteristics of a resilient, innovative, and agile organization. Influenced by many Agile & Lean thought leaders, this template provides an opportunity for organization leaders to reflect and improve on the behaviors, qualities, and capabilities required of an organization in today's fast-moving business environments.
---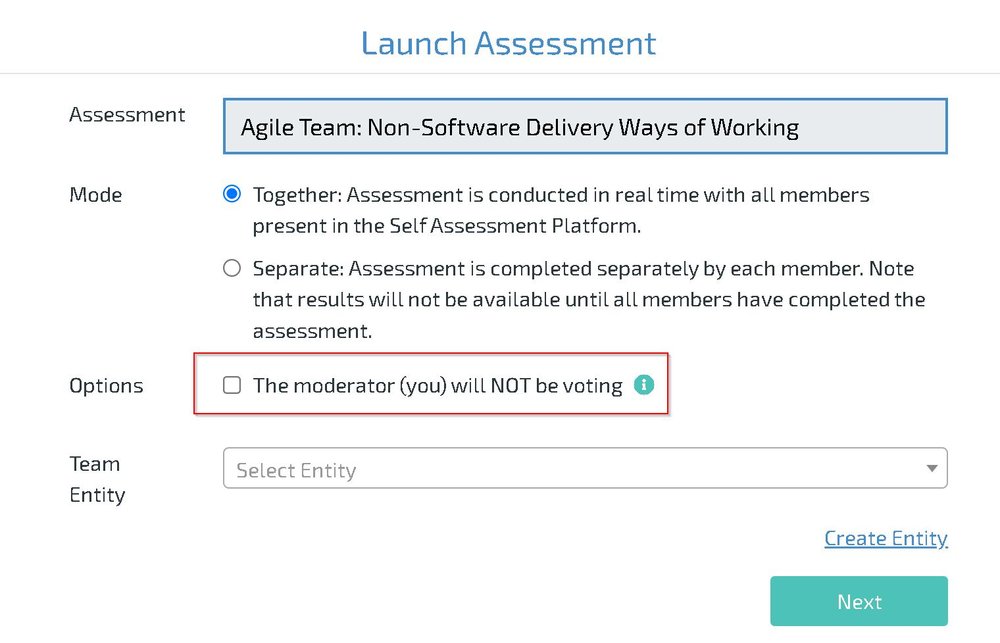 Assessment Moderator Assessment "No Vote" Option
When launching an assessment, the moderator will have the ability to indicate that they are not providing a vote, allowing for fewer clicks and a more seamless experience.